Country Lights Uganda Blog
COURTESY PHOTO.
---
Well-known televangelist Benny Hinn and his wife Suzanne are celebrating their 43rd wedding anniversary.
The 69-year-old global evangelist, best known for his regular miracle crusades, shared an update 5th August, 2022, thanking God for this milestone achievement.
While the couple filed a petition for divorce in 2010 citing irreconcilable differences, they later confronted their divorce decision and chose reconciliation henceforth renewing their vows.
During a recent broadcast, Pastor Benny Hinn joined by his wife's parents discussed personal challenges each has faced in marriage, and how they have learned to overcome the barriers to a happy and successful marriage.
Benny explained that Church leaders have to be careful that they do not have such a singular focus on ministry that they neglect nurturing and building their marriage partnership. 
Most preachers are married to the ministry, the Pastor was quick to reveal.
"That is what I think affected my marriage in a bad way. I was so busy with the ministry," he said.
Pastor Benny stated that marriages are the backbone of the church hence when families are healthy, the church can be healthy. 
Benny together with his wife and in-laws explained that success in marriage is not something that just happens, revealing further that the pressures of marriage for those in ministry can be especially challenging.
Hinn's father in-law and renown author Roy Harthern, Dr. (RIP) cited 7 principles for a happy marriage. He said that for a marriage to be successful, there must be agreement on spiritual values.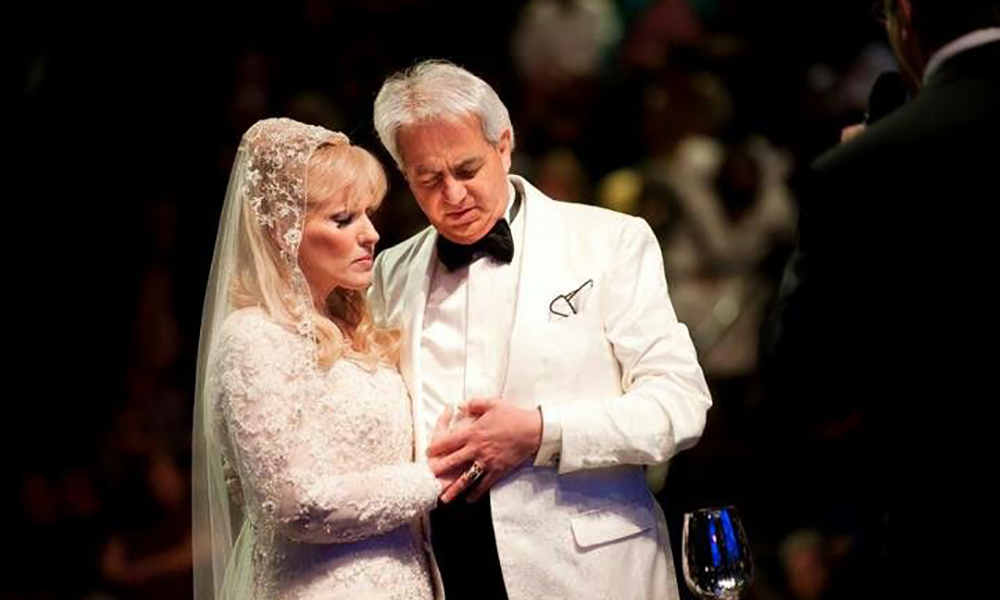 Benny and Suzanne Hinn remarry at Orlando's Church of All Nations on March 3, 2013. | (Photo: Facebook.com)
---
"Your wife is your number one sheep. You may not be the cause of the problem, but you are the solution. We have to give quality time to our wives and family. My children grew up thinking that I had time for everybody else, and no time for them. That is a shame. Ephesians 5:25 says, "a husband should love his wife as much as Christ loved the church and gave his life for it."" the late Bible teacher explained that time.
"The Bible is the best textbook that has ever been printed on marriage. In-fact, it begins with a wedding, and ends with a wedding. The first wedding was performed by God in the Garden (of Eden) and scripture says, "Therefore shall a man leave his father and his mother, and shall cleave unto his wife: and they shall be one flesh." This was ordained by God. And then, when Jesus began His earthly ministry, His first miracle was at a wedding," Roy Harthern, Dr. said then.
"When you read the book of Ephesians, there are 7 illustrations given by the Apostle Paul about the Church. And in one of those illustrations, he likens the church to a family."
The preacher urged that love is a sacrificial choice that seeks the highest and best for the other partner.
"Just as Jesus had to die to what he thought, felt and wanted, so we must lay down our lives, our souls for our wives. If I am so self-centered, self-seeking, and self-pleasing, and neglect my wife, she is going to react in kind because again, love is action and reaction."
The post Benny Hinn marks 43rd wedding anniversary: 'Your marriage is your first ministry', he says appeared first on Breaking news on Christianity in Uganda and World.
As reported on Christian News Uganda - Access the Original News Source Here.